Competition in foldable smartphone market heating up
Mar 06, 2019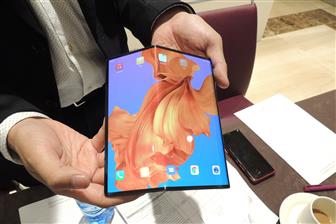 Competition in the foldable smartphone sector is heating up after the world's top-two handset brands, Samsung Electronics and Huawei, unveiled their respective foldable models, the Galaxy Fold and Mate X, recently.
While there is a consensus that initial sales volume for foldable smartphones will not be significant, sales of the Galaxy Fold are likely to be higher than those for the Mate X, judging from prices, design differentiation and brand image.
Despite the similarities of setting the prices of their respective foldable models at the eye-watering levels, Samsung's Galaxy Fold has one small screen on the outside and a large screen on the inside, while the Mate X uses one screen on the outside.
For a more detailed comparision, the Galaxy Fold has a 7.3-inch OLED display when unfolded, with the screen size scaled down to 6.4-inch when folded. The Mate X has an 8-inch OLED display and in closed position the Mate X has a front screen of 6.6-inch and a rear screen of 6.38-inch, according to Richard Yu, CEO of Huawei Consumer Product Business.
The Mate X's folded 6.6-inch front display matches the needs of consumers with large-size screen phones and is also larger than the 6.5-inch iPhone XS Max, Yu touted.
While Samsung touted that its Galaxy Fold supports both 4G and 5G technologies, Yu claimed that the Mate X is a truly 5G-focused phones with 5G configurations.
The Mate X is engineered to be impressively thin with the so-called Falcon Wing design, creating a real back-to-back scenario when folded, Yu said, adding that the thickness of the Mate X is merely 5.4mm after unfolding compared to 6.9mm for the Galaxy Fold. And the thickness of the Mate X goes to 11mm when folded, which is also better than the Galaxy Fold's nearly 17mm.
The Mate X also supports dual-battery design with a combined battery capacity of up to 4,500mAh and supports 55W fast charging that can recharge up to nearly 85% of the phone's power in 30 minutes, which is nearly 600% higher than the iPhone XS Max in terms of performance.
Although Huawei is touting the advantage of its Mate X over that of the Galaxy Fold, the pricing may remain an issue for consumers to replace their existing models for either the Mate X or Galaxy Fold.
Source: DIGITIMES