Market Analytics of Spot Welding Equipments, 2016-2024
Jul 03, 2020
Spot welding refers to a form of resistance welding wherein two or more metal sheets are joined together by applying heat and pressure to the concerned area. This is achieved using copper alloy electrodes that apply pressure and deliver current (for heating) to the workpieces. In this process, welds are typically made at regular intervals on overlapping sheets of the metal so as to ensure uniform joining of the workpieces. Spot welding is primarily used for joining parts having a thickness up to 3 mm. One of the most prominent aspects of spot welding is that the process does not include any filler material for welding the workpieces. This ensures highly precise finished products with minimal contamination.
Spot welding is used across a wide array of applications including automotive, industrial manufacturing, aerospace, construction and several others. The most significant factor fueling the market growth is the steadily growing automotive industry worldwide. The automotive industry contributes to nearly 3/4th of the total spot welding market. Thus, due to steady anticipated growth across the global automotive sector, the overall spot welding machines market is projected to continue witnessing robust growth throughout the forecast period. Another major factor contributing to the market growth is the superior advantages of spot welding technique over other welding and conventional joining methods such cost effectiveness, clean operation, simple working set-up and fast operation.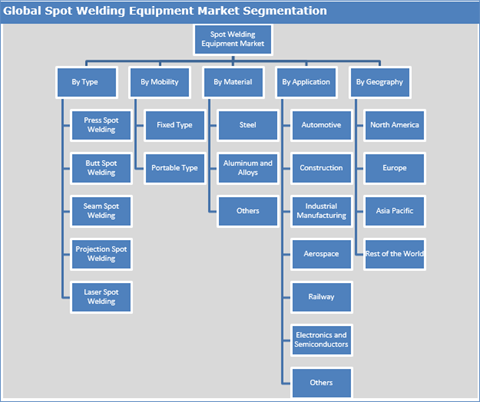 The report titled "Spot Welding Equipment Market- Growth, Future Prospects and Competitive Landscape, 2016-2024 offers strategic insights into the global spot welding equipment market with a focus on the market size and estimates for the duration 2014 to 2024. The said research study covers in-depth analysis of multiple market segments based on product types, mobility, material, application and cross-sectional study across different geographies. The study covers the comparative analysis of different segments for the years 2015 & 2024. The report also provides a prolific view on market dynamics such as market drivers, restraints, and opportunities.
Read more > Credence Research