【Post Show Report】2016 CCE South East Asia
Oct 24, 2016
Corrugated and carton industry leaders gather in force at CCE South East Asia 2016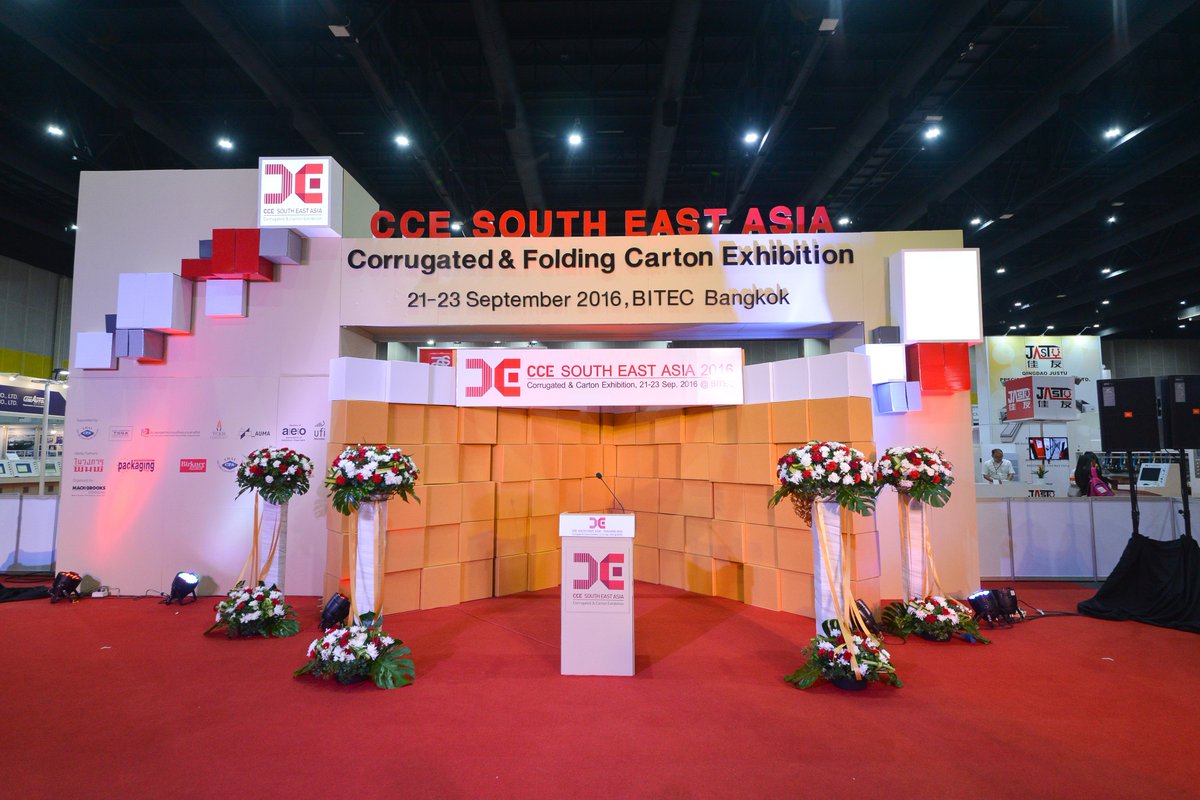 Over 3,200 buyers from Thailand and ASEAN region visit over 3 days
There was a fantastic domestic and international industry response to the debut CCE event in South East Asia, held at BITEC, Bangkok 21-23 September 2016. A total of 3,248 buyers from the
corrugated and carton packaging industries visited the busy three-day event, resulting in a tremendously vibrant buying and networking environment. When exhibitor attendees are taken into account the total industry professionals at the show exceeded 3,700.
Almost 100 international equipment and service suppliers exhibited at the event, with a clear focus on innovative carton and corrugated packaging solutions. Many working machines were on display, which provided numerous points of interest and excitement on the show floor.
Buyers came from 27 different countries and included significant delegations from all key ASEAN markets. The size and profile of attendance has confirmed CCE as the meeting place for the corrugated and folding carton industry in South East Asia. Machinery, lines, equipment and services were reported as sold during the exhibition.
Mr Peter Schlegel, Managing Director of Zund Asia (Bangkok) Ltd said: "We were exhibiting our Digital Cutting System and were delighted with the positive response from the market. We have successfully concluded machine sales during the show to contacts we meet during and prior to the exhibition"
Mr Qi Xiaoyun, President of Sansin Printing Machine Material (Thailand) Co.,Ltd said " Displaying our Flexo printer and Auto Die-cutter, we are delighted with the interest from the market. We have managed to take orders for our machine during CCE which of course we are very happy about."
Mr. Ravi Kasemsarn, President of Thai Corrugated Packaging Association (TCPA), added: "Attending CCE South East Asia has been a great success for Sarnti Packaging Co., Ltd. We managed to meet many existing and new suppliers during the show and have brought the semi auto die-cutter for our plant during the show. This platform provided an update on comprehensive new technologies and new innovations available to enhance our production efficiency, while achieving a competitive economy of scale."
Industry seminars also attracted significant attention during the three days, and provided attendees with valuable educational content, to support the exhibitions aim to boost the productivity of the industry in South East Asia. Senior Manager of Mack Brooks Exhibitions Asia Ltd; Kanokwara Anutarawatr commented "We are delighted with the response and the feedback from the industry to CCE South East Asia. We are hearing that many machines have been sold, and fruitful business meeting have taken place. The exhibition has provided a platform, meeting place
and a focal point for the industry to get together and explore ways to meet the strong demands placed on the sector in the ASEAN region. The success of the show is reflected by exhibitor rebooking's for the next South East Asian edition in 2018 which has already exceeded this year's space. "
CCE South East Asia 2018 will return to BITEC Bangkok from the 5-7 September 2018 www.cce-southeastasia.com