TAITRA Organizes Auto & Motorcycle Market Trends Seminar for smart transport
Mar 14, 2019

The 2019 Taipei International Auto Parts & Accessories Show (Taipei AMPA), organized by TAITRA, will include six exhibitions that present auto parts, auto electronics, electric vehicles, smart transportation, motorcycles and car tuning. The event is being held at TaiNEX 1 and TaiNEX 2, April 24-28. In addition, TAITRA and the Taiwan Electrical and Electronic Manufacturers' Association (TEEMA) co-hosted an automotive market trend seminar on "The Age of Smart Transportation Age is Here, Are You Ready?" on March 7. This seminar aimed to help the industry better understand future trends and developments in smart transportation, as well as provide opportunities for exchange. The seminar gathered over 100 industry players and helped the automotive industry garner the latest trends through presentations delivered by iconic manufacturers and experts. It also served as a prologue to the exhibition.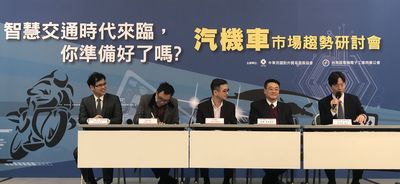 The evolution of technology and changes in the automotive industry have made electric and self-driving vehicles the focal points and future trends of the industry. According to the latest BNEF report, cumulative global sales of electric vehicles will reach 11 million in 2025, and is expected to exceed 30 million in 2030. Electric vehicles and self-driving technology are increasingly evolving with the development of AI technology and the transformation of parts manufacturers. According to statistics, the global self-driving market is expected to reach US$173 billion within five years.
Walter Yeh, President & CEO of TAITRA, said in the meeting that the development of Taiwan's auto parts industry is closely linked to global market trends and pulsations. With Taiwan's strong capital in the communications industry, its significant auto parts and components manufacturing has profound resonance among the international community. With a complete ADAS supply chain, manufacturers have also begun investing in the development of self-driving vehicle platform technologies. TAITRA planned comprehensive promotional events specifically for the auto parts industry throughout the year, which serve to build a bridge between Taiwan's global supply chain and the market. Xing Hsu, Executive Vice President of TEEMA, said that this association will help strengthen the automotive electronics industry. He has formed three dedicated professional teams - V-TEAM and North American Affairs, low-speed EV performance improvement, and smart tires - to help Taiwan's Internet of Vehicles technology expand overseas.
Noodoe is committed to the development of smart charging stations. Chairman John Wang expects the world's major metropolitan areas to transition to electric transportation in the next 15 to 20 years. Noodoe's smart cloud charging technology will enhance charging and battery swapping from the consumers' perspective. Noodoe offers global business owners an ability to create electric vehicle charging solutions. Chao-lun Cheng, Senior Industry Analyst and Team Leader of the Institute for Information Industry, analyzed the challenges brought about by smart cars from three innovation directions, including the internet of vehicles, driverless vehicles, and electric vehicles. These innovations must be gradually realized. Manufacturers are recommended to invest more resources, and integrate software technologies and make them public, as well as consider cooperative business models beyond the vehicle itself. Dr. Bo-han Shu of 7StarLake, used the driverless bus brand to exemplify the topic, and analyzed the application of self-driving operations and virtual tracks. Moreover, through the integration of smart mobile technology, the company will create future stations that combine various transportation tools and smart information signage. It will highlight the concept of mobile service to ultimately become a seamless service and experience.
2019 Taipei AMPA will emphasize motorization, electronization, and intelligentization. This year's exhibition will bring to life the newly opened TaiNEX 2 for the first time. Using both TaiNEX 1 and TaiNEX 2 will allow more exhibitors and exhibition themes and therefore, increase exhibition scale. More than 7,000 overseas buyers are estimated to attend the exhibition in Taiwan. For information on the shows, please visit the AMPA all-in-one site: www.ampa-in-one.com.tw.