GIFTIONERY TAIPEI 2019 Concluded Successfully With attractive exotic giftware
Jul 02, 2019

GIFTIONERY TAIPEI 2019 concluded on the 21st, attracting about 10,000 local and international buyers. The top five buyers were from Mainland China, Japan, Malaysia, Hong Kong and the United States.
Featuring eco-green, practical and creative products, the objects and items exhibited this year were rich and diverse, inspiring many major local and international distributors, designers, and companies to send their procurement personnel to negotiate cooperation agreements. For example, the formaldehyde- plasticizer- and toluene-free safety carpet designed by 'Two Bao Co.', attracted domestic dealers such as 'Leo Foo Resort', 'E-DA Theme Park', 'Little Ding Dong Science Theme Park', as well as buyers from the USA, Vietnam, Australia, and New Zealand. In addition, the adjustable lightboxes with backlit films, natural wooden frames and a led-light system with dimmers designed by 'Lighto Studio' attracted 'Cashboxparty', KTV Company, B&Q hardware company, and Kaohsiung Museum of History. Moreover, the DIY Metal tool box designed by 'CLAYWAY CO', entered into a cooperation agreement with the 'Museum of Biology and Aquarium' and 'Eslite', a significant bookstore brand in Asia.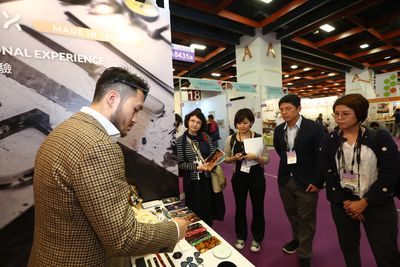 This year's pavilions included the Kingdom of Eswatini, Nicaragua and Guatemala, and their products featured unique national culture and exotic giftware, a highlight that attracted many visitors to join the show. The Japan Pavilion exhibited for the fifth time this year, stating that "by joining the show, we can connect many of Taiwan's traders and distributors, which is what they expect".
Furthermore, Taiwan's souvenir and gift market gathered many national buyers. A Secretary from Shandong Cultural Creative Design Industry Association praised Taiwan's giftware industry highlighting its excellent product line, from development to production, and high productivity. The buyers from the product procurement department, magma-shop said: "this show presents companies from the entire industry chain". Moreover, a journalist from the Russian magazine, Leader, thinks that Taiwan has innovative products. A journalist from the Japanese magazine SELECT said that "Taiwan's giftware products combine technique and creativity with very affordable prices".
To increase exhibitor efficacy, the organizer arranged one-on-one procurement meetings with 25 sessions. Exhibitors can join this meeting and enable the market to negotiate with high-end buyers from overseas. 'Seminars on Global Design Trends & Retail Expansion' welcomed British industrial designer Michael Young, business supervisor from the e-commerce platform- Citisocial Matthew Ryan, and Frank Yang, founder of Beyond123. The seminar discussed in the latest trends in brand marketing, and their experience in marketing business, gathering around 200 professional visitors. In addition, the fourth day of the 'Hot Products Vote launched on the 21st, attracted the participation of around 1,000 people. First prize went to '20 pantone luggage' by 'CK GROUP CO.', 'Wooden Vase' by 'HONGXINDA ENTERPRISED CO.', and a coffee dripper by 'YUAN LONG STANLESS STEEL CORP.'.
See you at Giftionery Taipei 2020 April 23th - 26th in Taipei, Taiwan.